Some fabulous pictures and news of our lovely Green and activities that Friends of Twickenham Green do in the local community.
April 2023
Cold and raining, but we still had an excellent turn out for our bi annual clean-up of The Green. Less rubbish than usual, although the shrubberies can hold a lot of litter. A good morning's work, and thanks so much for everyone who came along to help. Let us all help to look after our open spaces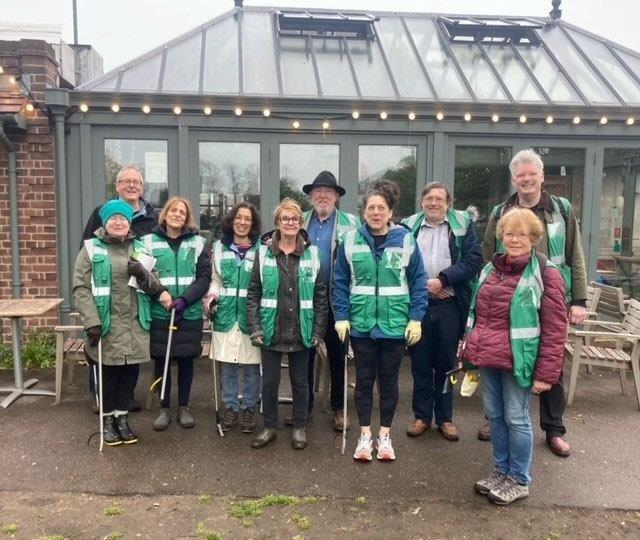 Spring inspection of The Green, with Sasha O'Neill and Matt Almond from Parks. Special attention is to be given to out two shrubberies, plus nutrients for the grass. As ever, a big thank you to Parks for all their attention and assistance. Howard Roberts, Environment Officer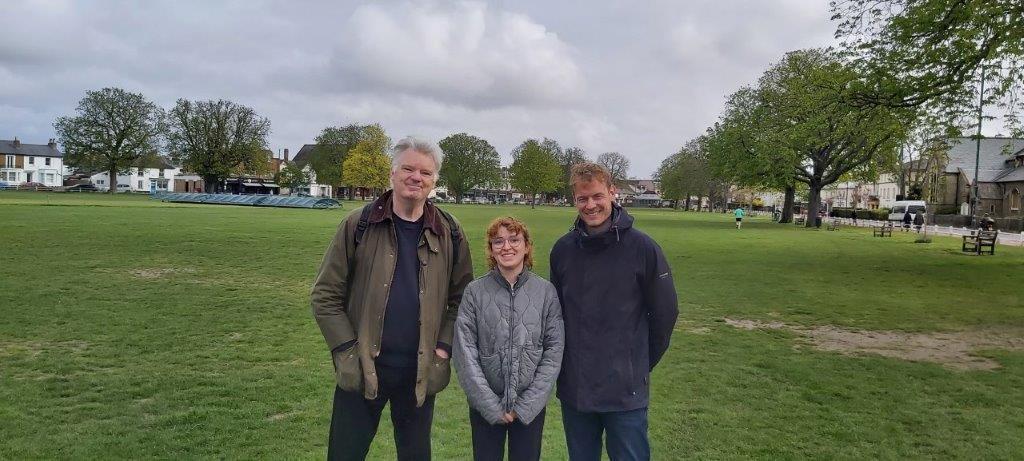 March 2023
Planning Application,24 Hampton Road. 22/2417/FUL
We are pleased to inform all our friends and members, that the application to build three properties in the backland behind 24 Hampton Road, has been refused. The comprehensive statement from planning stated eight key areas for the rejection of the application These included lack of biodiversity, overdevelopment of the site, fear of damage to the Eucalyptus under a Tree Protection Order, among many other reasons. We do not yet know if the developer will appeal. A very big thank you to all those who contributed to the campaign; far too many to mention individually. Without your help and vigilance this could have had a very different conclusion.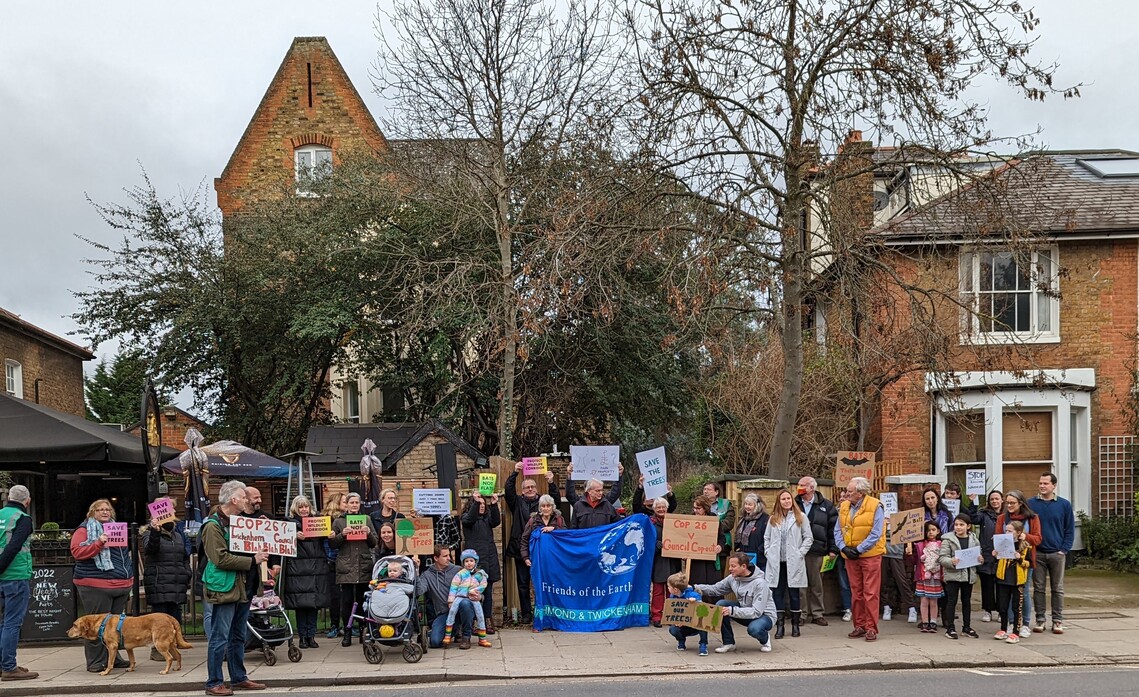 January 2023
It is with much sadness that we have been informed of the death of our long standing member, Helen Wallace Nicholls. Please see our statement here.
December 2022
Our Environment Office, Howard Roberts meeting on a cold Twickenham Green earlier this week with Craig Ruddick, Arboricultural Manager for Richmond Parks & Open Spaces. Discussed new planting, and a forthcoming survey of all our trees. As ever, thanks to Parks for the attention they give to our precious open space.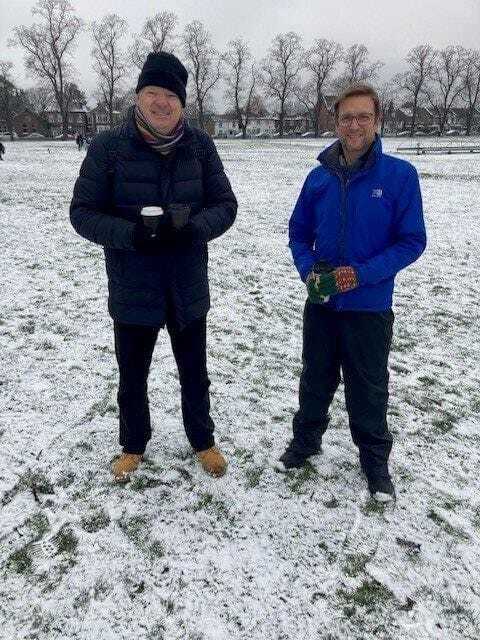 The Christmas tree is up on The Green thanks
Discover Twickenham
which means it's time for our December members meeting and Christmas celebration which is next Tuesday 6 December 8pm at the Cricket Pavilion - ALL WELCOME - more details on our website here.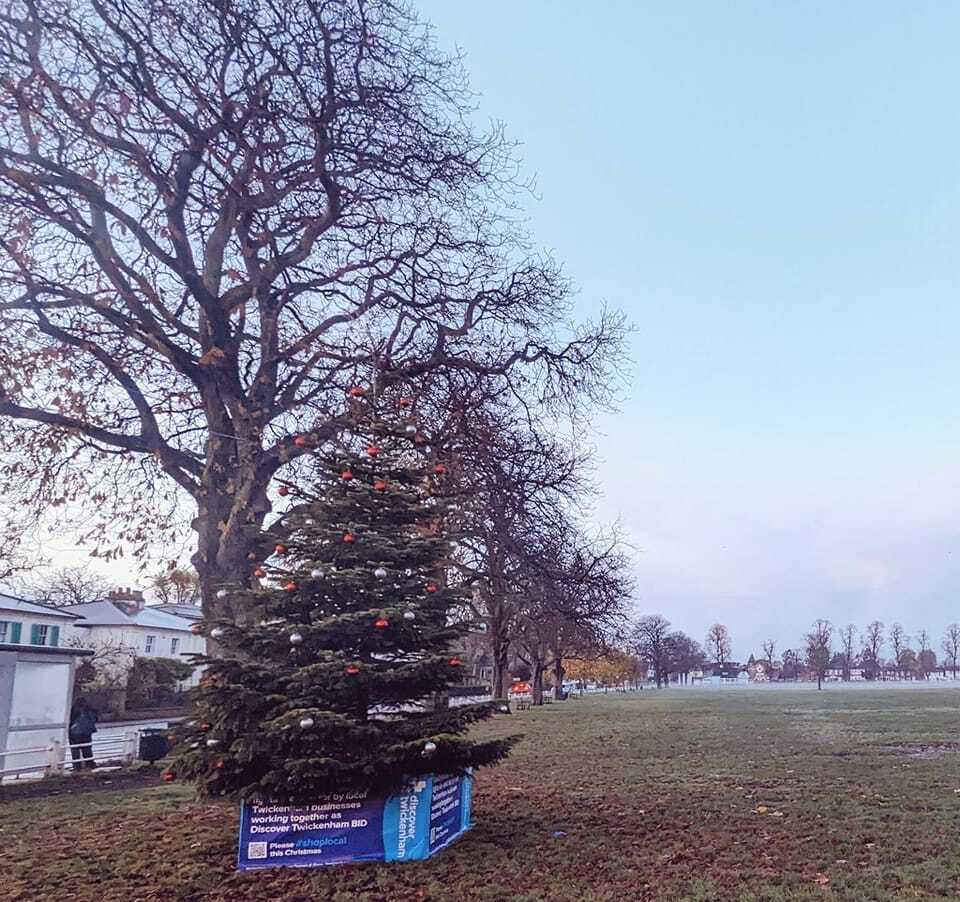 November 2022
A big thank you to Parks, for replacing Amelie Delagrange's memorial bench, and transferring the plaque. The old bench was starting to decay, and after it was brought to the attention of Parks, they have kindly replaced the bench. Important as the bench is to Amelie's family, it has also become a focal point for women's issues, which the Friends are happy to support.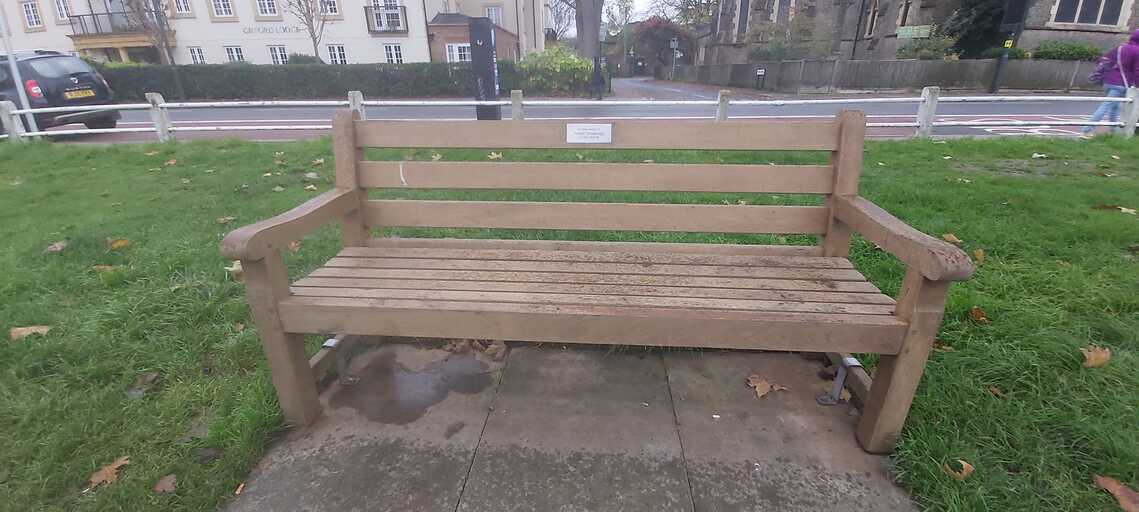 October 2022
A stunning shot of the calm after yesterday's storm from our committee member Pam!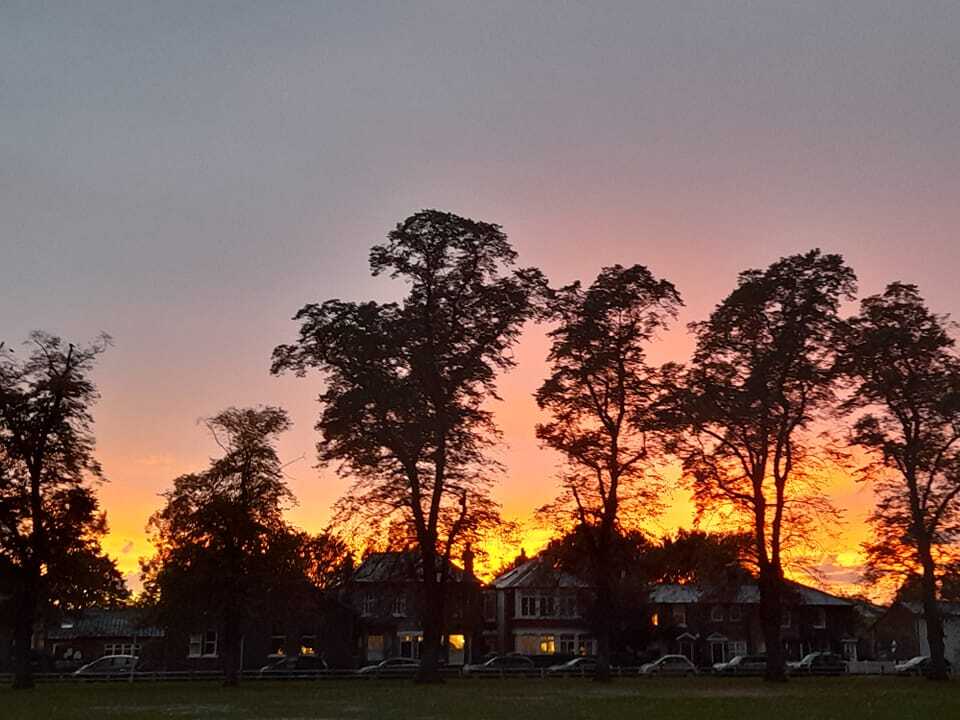 Successful meeting this morning with Matt Almond from Parks, our twice yearly review of The Green. They are working hard to restore the grass over the winter months, including contra seeding and verti draining. Always grateful for their input and hard work. Howard Roberts, Environment Officer,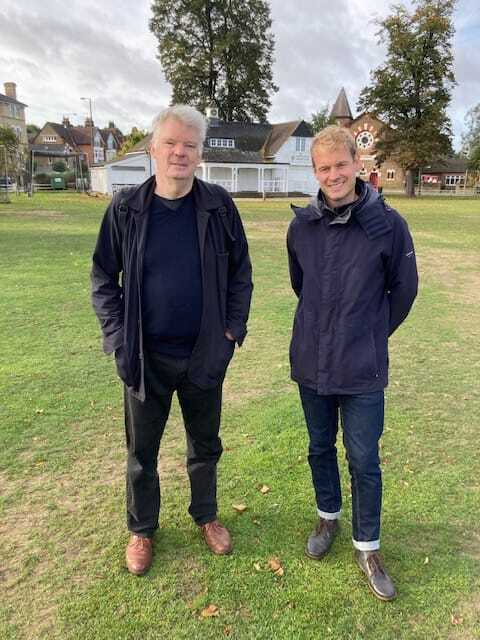 August 2022
Planning application affecting conservation area:
As you will no doubt be aware this refers to the backland behind 18-22 Hampton Road, the former Fullers site, that was an important part of the wildlife corridor between First and Second Cross Roads. Many local residents raised objections to the felling of trees on this site earlier this year. Nearly all the trees were felled, and the shrubs cleared. The sole remaining eucalyptus tree on the site has a Tree Protection Order upon it.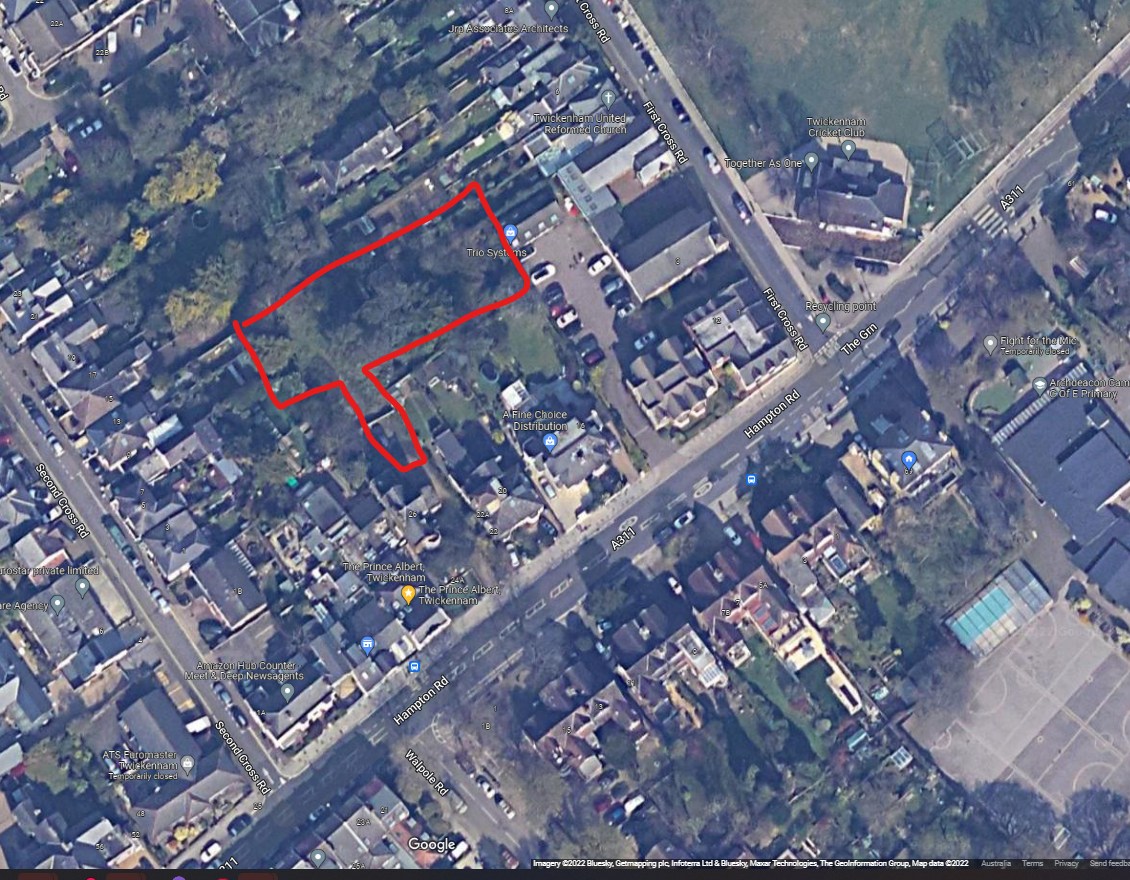 Planning application number: 22/2417/FUL, Site address:- 24 Hampton Road Twickenham TW2 5QB
Link:- https://www2.richmond.gov.uk/lbrplanning/Planning_CaseNo.aspx?strCASENO=22/2417/FUL
From Twickenham Green, to Twickenham Brown, to Lake Twickenham.
Some welcome relief for the grass.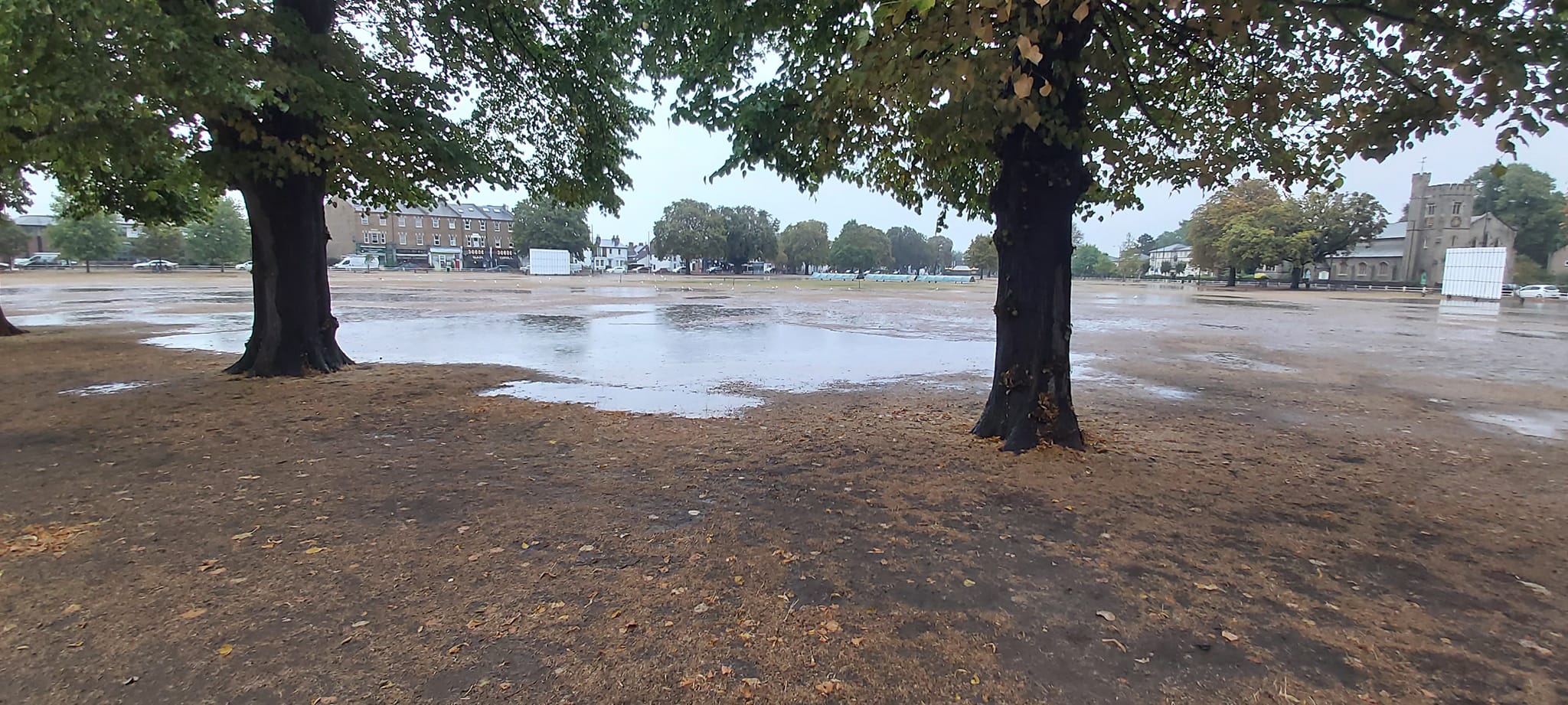 July 2022
Committee members howard and Sandra photographed this week with Paul Beadle, Manager of the The Vineyard Cente, after dropping of the donations collected at our pop-up members picnic on The Green last month.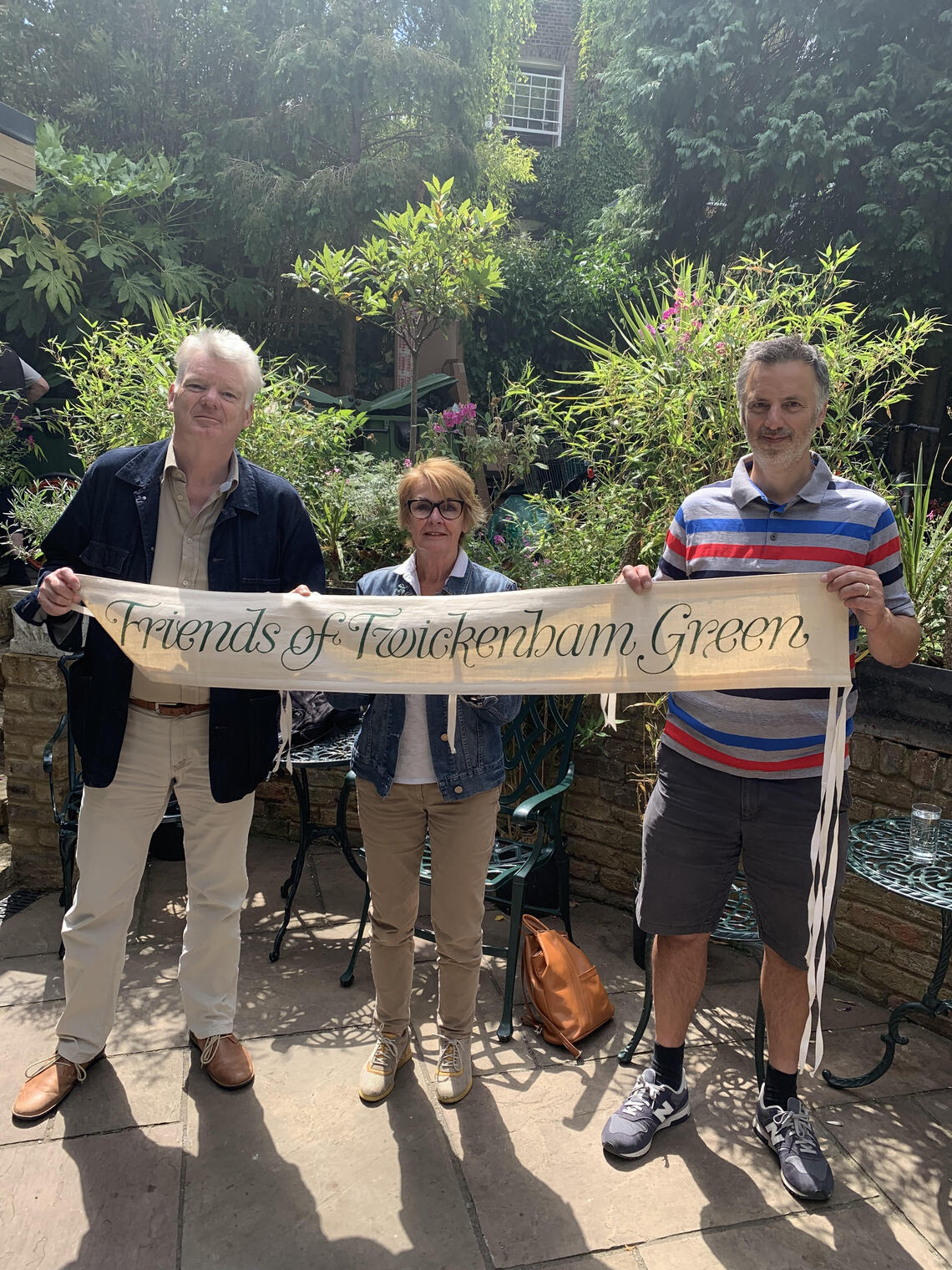 June 2022
In the absence of a fete this year, The Friends of Twickenham Green held a pop up picnic for members and friends on The Green yesterday. Aside from a convivial meeting, a significant sum was raised in donations to our two local food banks. Thanks to all those who attended, and to all those who contributed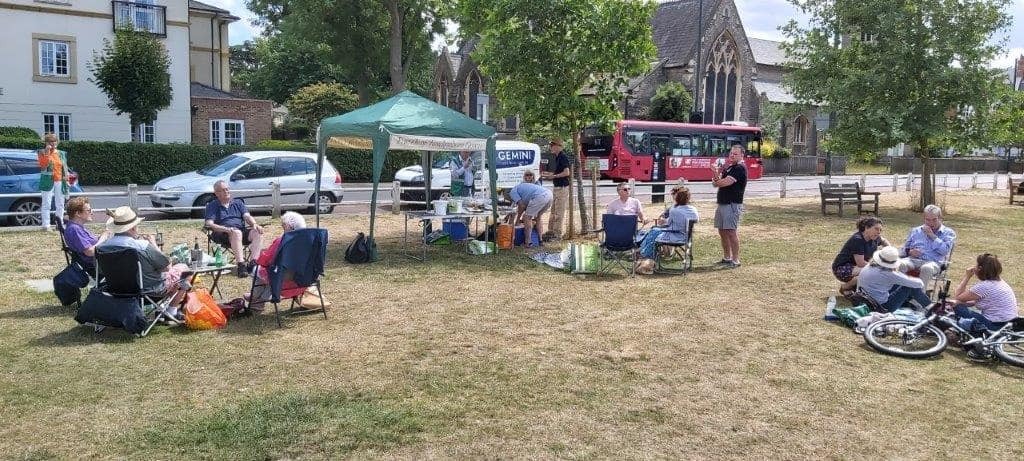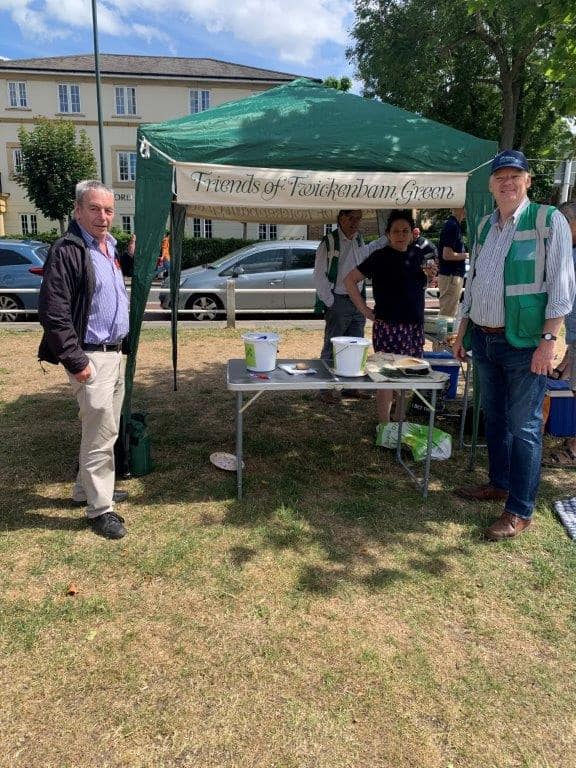 The Friends of Twickenham Green are having a picnic on The Green on Sunday, 26th June. 2.00pm at the Arthur's end. Please BYO sunscreen, food and drink.
We will be collecting cash donations for SPEAR The Homelessness Charity and The Vineyard Food Bank.
SPEAR Vineyard Community Church Richmond Munira Wilson - Liberal Democrat Member of Parliament for Twickenham Twickenham Nub News Twickenham Cricket Club Arthur's Pizza
May 2022
Spring Newsletter & Members Meeting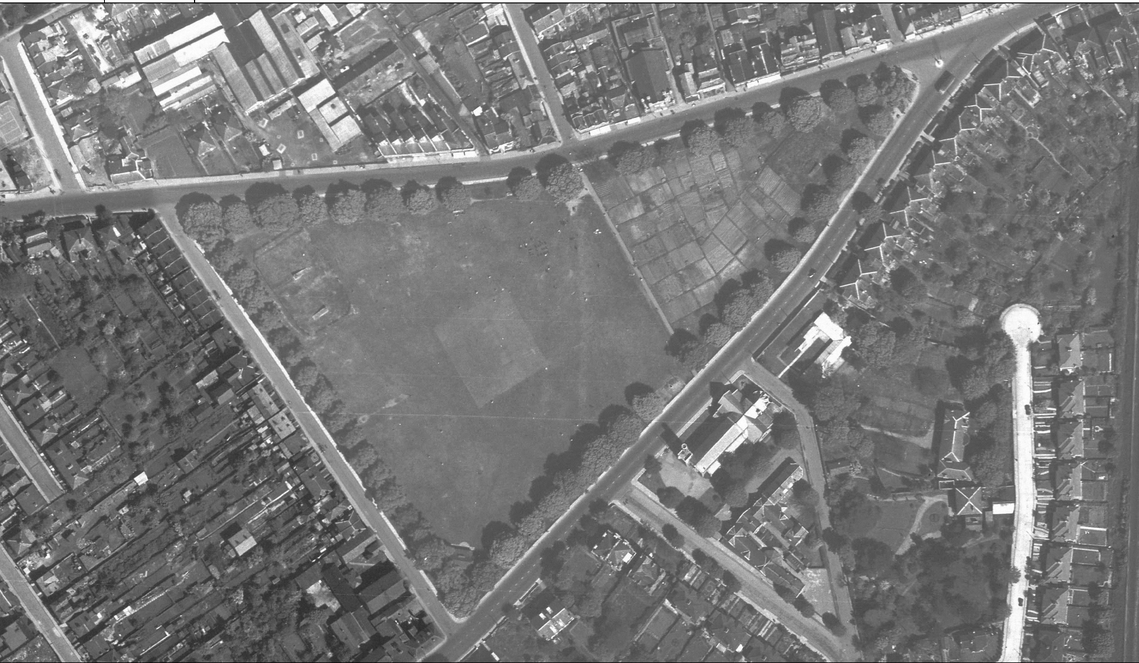 Our latest newsletter has just been published, see an update on our crowd sourced project to find out more about the air raid shelters rumoured to exist on The Green, updates to Toilet Provision and updates from our both our Chair & Environment officer. You can access it here.
Our next Members Meeting will be on 14 June, 8.00 p.m. in the cricket pavilion, Twickenham Green. Guest Speaker Andy White, SPEAR Homeless Charity. All welcome - including interested friends too.
April
Toilet provision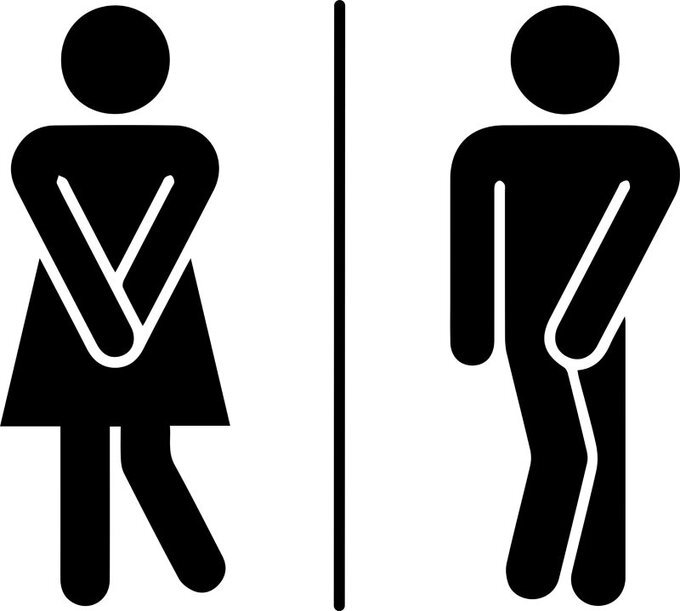 Twickenham Cricket Club and the Friends of Twickenham Green have been working closely with Richmond Council to provide additional toilet provision on The Green. As a result of this for the next two public holiday the Cricket Pavilion will be available for use over extended hours; please see the table below.
We are in discussion to determine how to provide facilities over the longer term to ensure that there is improved provision and will keep you posted on the progress of these discussions and potential future solutions.

Bank Holiday Weekends

May Bank Holiday weekend

Sat 30th April

11am – 10pm

Sun 1st May

9.30am – 8pm

Mon 2nd May (BH)

10am – 8pm

Platinum Jubilee Bank Holiday Weekend

Thur 2nd June (BH)

10am – 8pm

Fri 3rd June (BH)

10am – 8pm

Sat 4th June

11am – 10pm

Sun 5th June

9.30am – 8pm
January 2022
Spring Members Competition - We lost an air raid shelter!
Can you help us find it? In late 1939, a public air raid shelter was built under Twickenham Green.
See more details here on website?
https://fotg.uk/spring-project-for-fotg-member/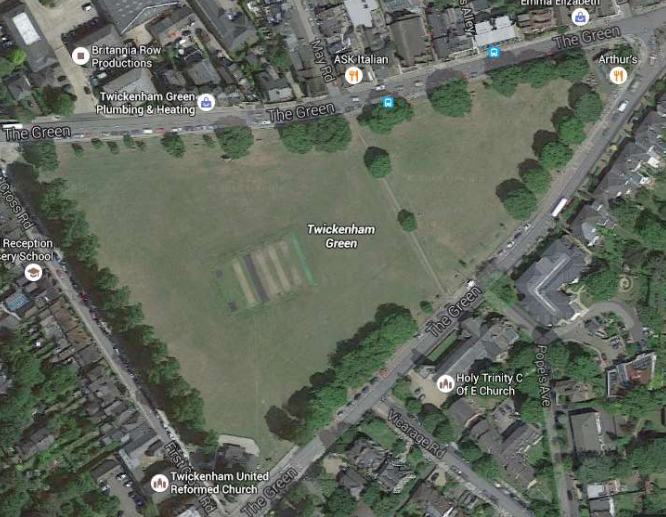 Once It's Gone, It's Gone.
After the distressing news that the council had approved the destruction of five trees on the back land site (24 Hampton Road), local residents met to make their feelings known. Families, local shop keepers, neighbours, and members of Friends of the Earth and The Friends of Twickenham Green, want the council to know how disappointed they are with the decision to sanction the removal of the five trees for no purpose, from this precious wild life habitat in the conservation area. We appeal to Gareth Roberts, council leader, to review their decision before it is too late.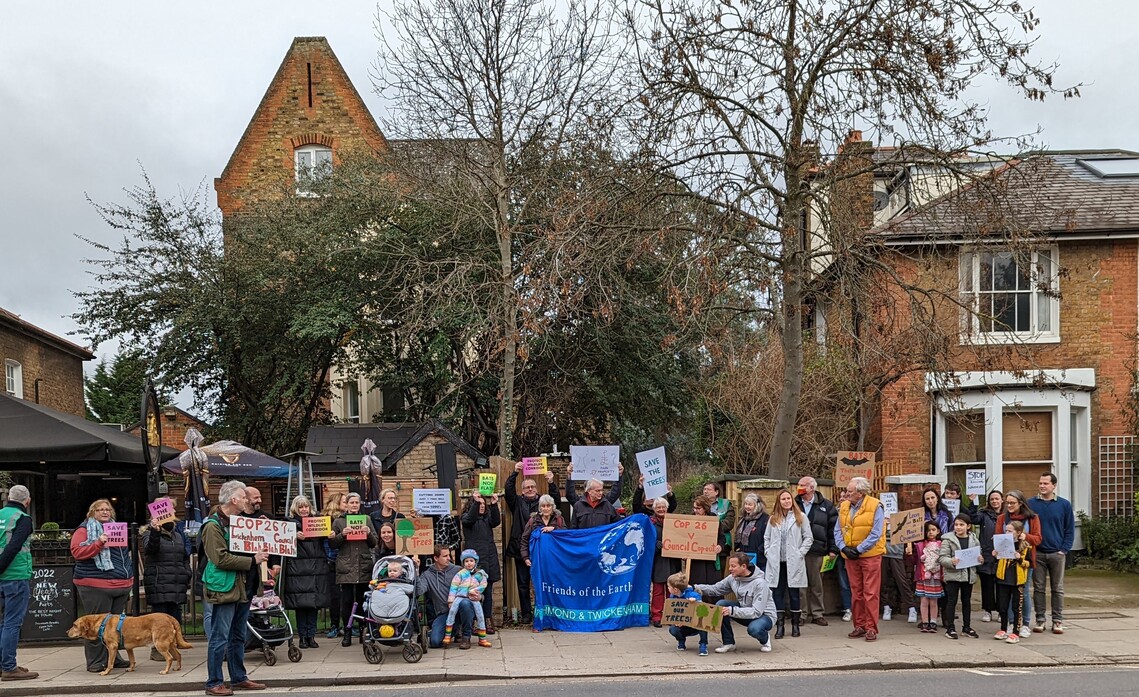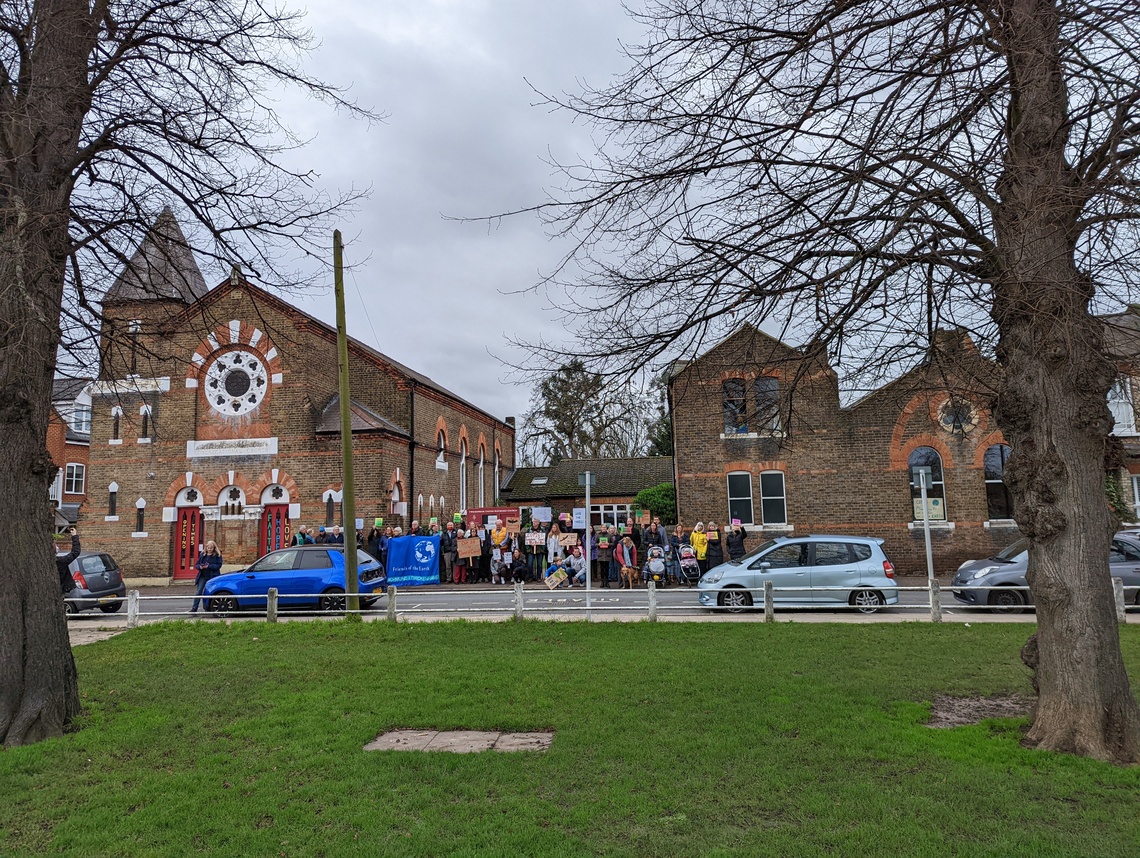 December 2021
Once It's Gone, It's Gone.
Richmond and Twickenham Council approved the removal of five mature trees, on the land behind 24 Hampton Road, on 23rd December, 2021.
Monday 3rd January. Bring banners/placards/children. Assemble 11am at the recycling centre, junction of Hampton Road and First Cross Road. We will then walk down to entrance to back land site, 24 Hampton Road. Assemble for photo shoot. Disperse. Should only take twenty minutes.
N.B. Do not enter the site, this is private property. Do not obstruct any access to the site. Please respect the privacy of the residents of the flats at 24 Hampton Road.
The object of the exercise is to let the council know the depth of feeling and concern from local residents, at the removal of the trees in the wildlife corridor. The council needs to reconsider their decision.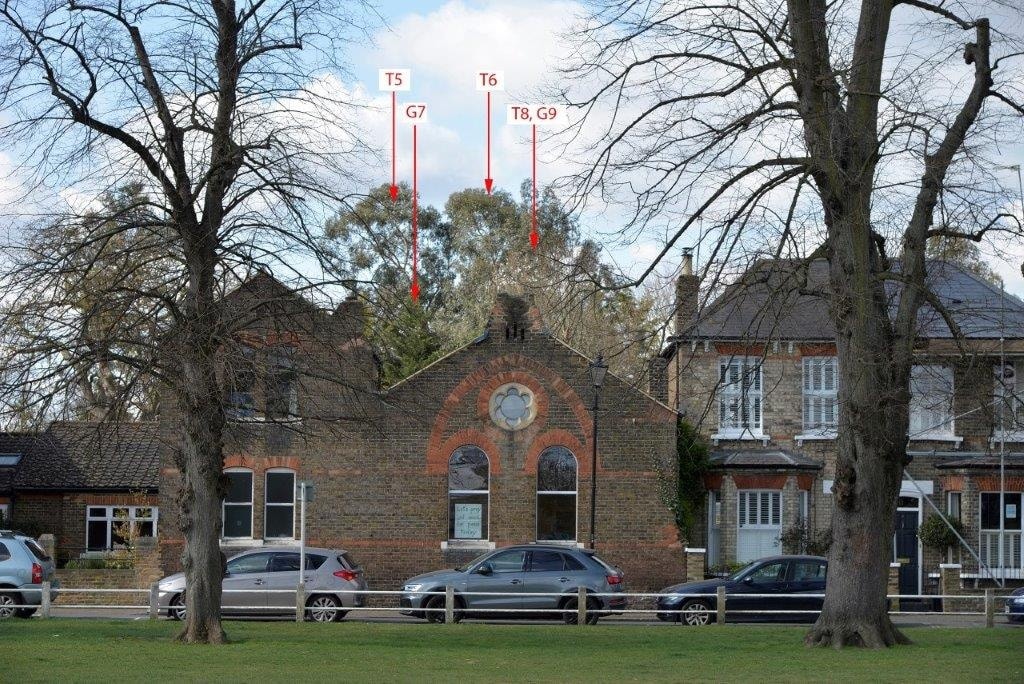 Proposed Removal of 5 trees in conservation area
See our statement here
https://fotg.uk/24-hampton-road/
about the proposed removal of 5 mature trees in the Twickenham Green conservation area. Please let the council know your thoughts.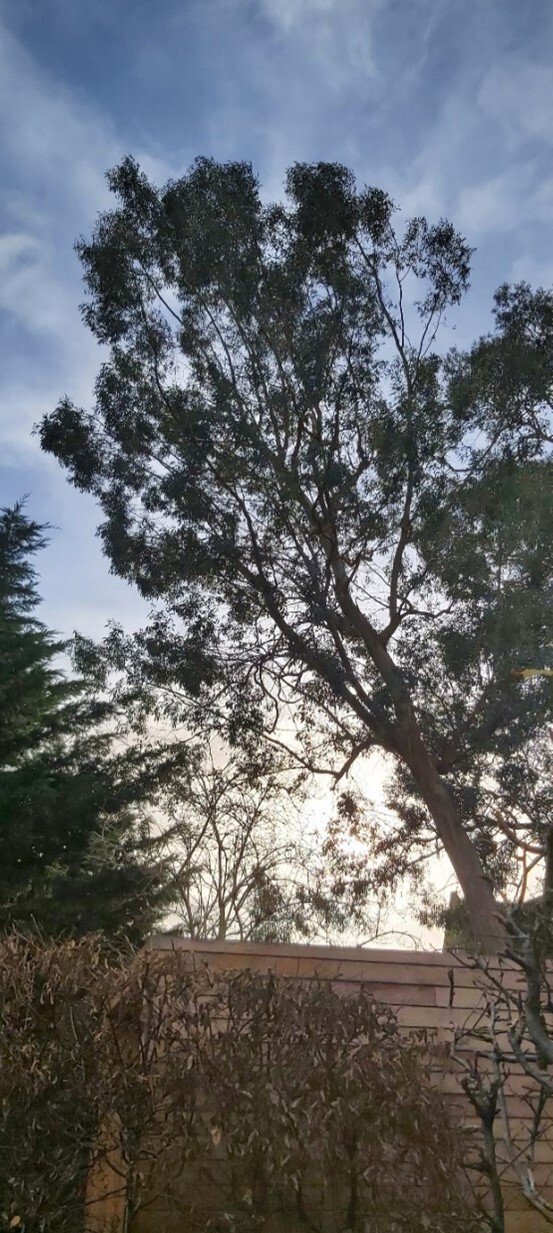 Photo Competition Winner
Congratulations to Amy Popple, who has won our photo competition with this beautiful haunting image of Twickenham Green. We shall be putting this up, along with the work from the other entrants, on our web site. We were all impressed with quality of the pictures submitted, and enjoyed judging the entries.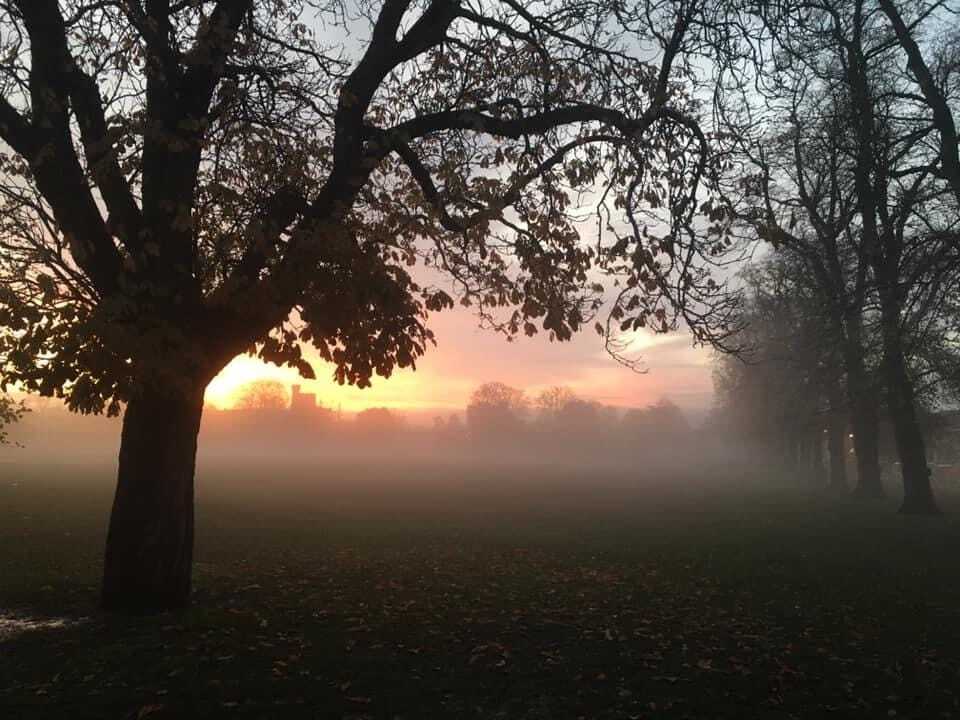 November 2021
Christmas Celebration & Members Meeting
If you are one of our members, or just in the neighbourhood and interested in our work, then why not come along to meet us at The Cricket Pavilion, Twickenham Green, on Tuesday 7th December 2021 from 8pm, where we will be having our Christmas celebration.
More information is available in our events calendar on our website https://fotg.uk/calendar/item/45495486
Friends Update
Since we last had a chance to meet face-to-face, the Friends of Twickenham Green have been very busy. Amongst other activities and projects we have:
Run a successful campaign to fund and install a defibrillator at Sainsburys on The Green, for the benefit of the community.
Launched a highly effective appeal in conjunction with the United Reformed Church to secure essential donations for newly arrived Afghan refugees, endorsed by our local MP.
Met and worked with local councillors to address the issues of toilet facilities on The Green, and the problems associated with our re-cycling centre.
Met with our local housing charity, Spear, to more fully understand their excellent work and to donate funds for their projects.
Worked closely with local councillors to monitor back land development in the Twickenham Green conservation area.
Helped with donations to our local food banks in Whitton and Richmond, who do so much for those in need locally.
Undertaken twice yearly clean ups of The Green with members and local volunteers, to keep our precious open space looking good.
Met with Parks staff to undertake regular inspections of The Green, to keep a close eye on areas of concern.
And a whole lot more…
Christmas Photo Competition
Why not join in our Christmas photo competition? Send us a digital photo of Twickenham Green in autumn. You can send these via email to friends@fotg.uk
For legal reasons photos should not include featured people. What we want is a picture that captures the autumnal beauty of Twickenham Green, that we can then use on our website. Winners will be chosen by the Friends of Twickenham Green Committee. Prizes to be awarded for an under eighteen entry, and an adult entry. All photos to be submitted 30th November, and winners announced and prizes awarded at our Christmas meeting on Tuesday 7th December. Make sure in your accompanying message that you give us your full name, age, address, and contact phone number.
Here is one of ours for a starter.
October 2021
22/10 - We are very pleased to announce that Twickenham Green has again been awarded Green Flag status. Special thanks to all out committee members and volunteers who have contributed to the maintenance of The Green over the past year. Your efforts have clearly been noticed, and appreciated. May it continue to look so good.
21/10 - Appeal for volunteers to help out with donations at the Afghanistan and Central Asian Association.
Volunteers are needed Monday to Sunday 11.00am to 5.00pm in Feltham
Address : Unit 9 Griffin Centre Feltham, TW14 0HS
Telephone: 0208 572 0300
Nearest Station: Feltham Station, Hatton Cross Tube
Email: admin@afghanistan-central-asian.org.uk
Contact names: Zoe or Sheekeba
14/10 - We met with council, parks and Twickenham BID regarding the proposal for Santa's grotto on The Green this December. See our report here on our website regarding the meeting.
03/10 - Munira Wilson MP for Twickenham, meets Sandra Roberts and other volunteers from the Friends of Twickenham Green and the United Reformed Church, who collected and distributed donations for the Afghanistan and Central Asian Association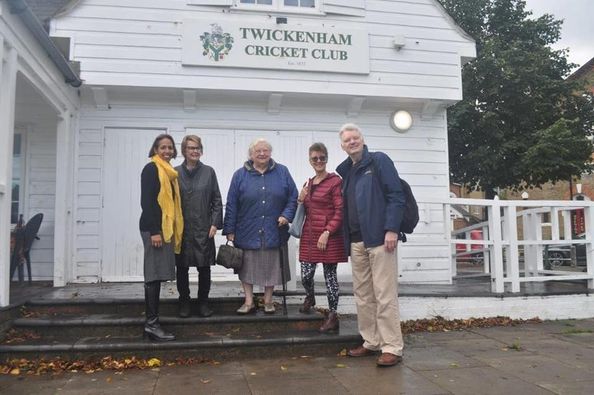 01/10 - SPEAR, the charity working locally helping those experiencing homelessness, met with committee members today on The Green to thank Friends of Twickenham Green members for their ongoing support.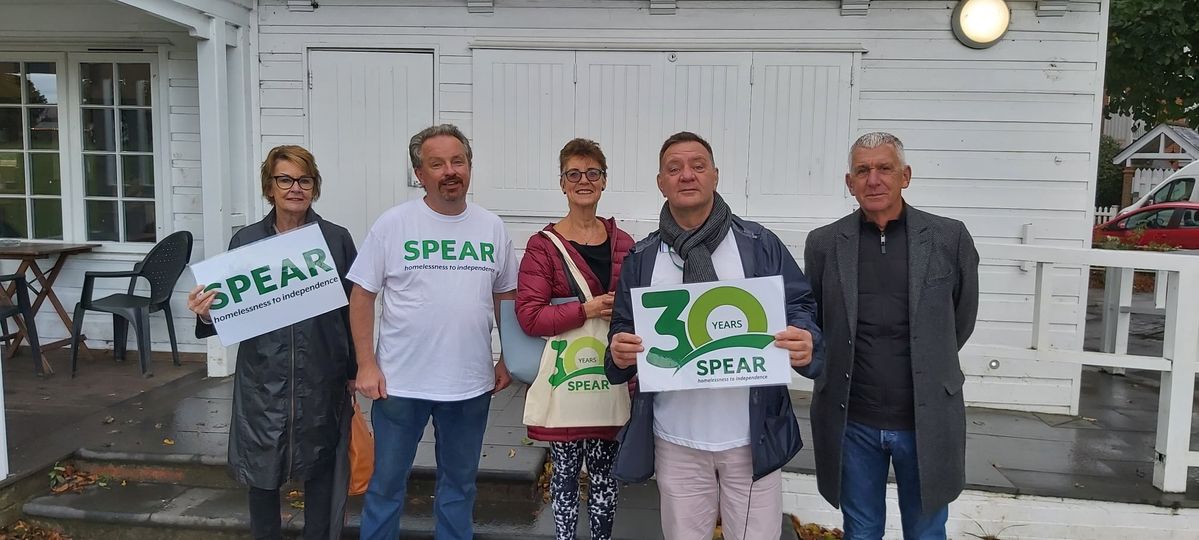 September 2021
26/09 - Another successful clean-up of The Green this morning. Thanks to all those who came along for their help. Nice to see some new faces, and some new members. We appreciate all the effort the volunteers make to look after our precious open space.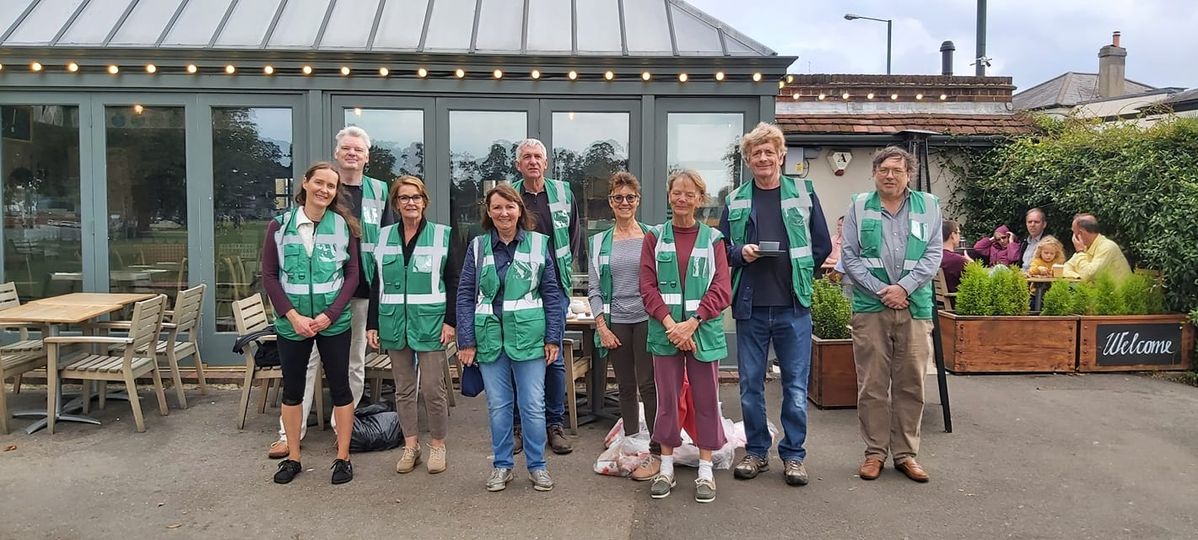 UPDATE: 01/09 Thanks for your overwhelming generosity Twickenham, we are no longer able to accept any more donations.
We are going to donate the overrun of books and toys to local charity shops.
Friends Committee member, Sandra Roberts delivered our first donations of emergency toiletries from The Friends, at the Afghan and central Asian Association in Feltham on Monday. See details below of items in demand and the days and times that you can drop off donated items.
________________________
Afghan Appeal
The Friends of Twickenham Green and The United Reformed Church are organising a collection of essential items for Afghan refugees.
The required items are:-
While all donations are welcome but essentials that are in high demand include:
UPDATE: Clothing donations are no longer required as the centre has already had plenty of these items donated
- Toiletries and hygiene items
In terms of specific toiletries, similar items to these are essential:
- Toothpaste/toothbrush
- Deodorant
- Menstrual products
- Soap/shampoo/conditioner
- Hand sanitiser
- Moisturiser
Can you please take any suitable items to The United Reformed Church in First Cross Road at the following times:-
- Wednesday 1st September 11:00 to 1:00 pm
Once we have sorted the items they will be taken to the Afghanistan and Central Asian Association in Feltham.
Thank you for your support
Twickenham Community
https://fotg.uk/afghan-appeal/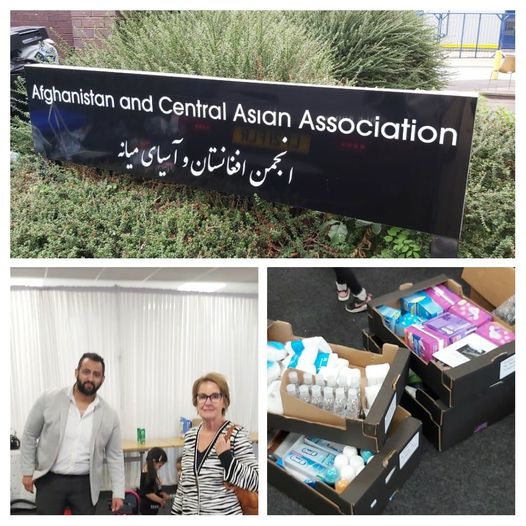 August 2021
Afghan Appeal
The Friends of Twickenham Green and The United Reformed Church are organising a collection of essential items for Afghan refugees.Please see further details on our website here. https://fotg.uk/afghan-appeal/
Damage to Ameilies treee
Amelie's tree appears to have suffered damage at the base of its trunk. We were alerted by a Friends member, and all details were passed on to London Borough of Richmond upon Thames Parks team yesterday and the tree will be inspected shortly.

Thanks to all of you who have contacted us about this issue, and here's hoping the tree will be OK.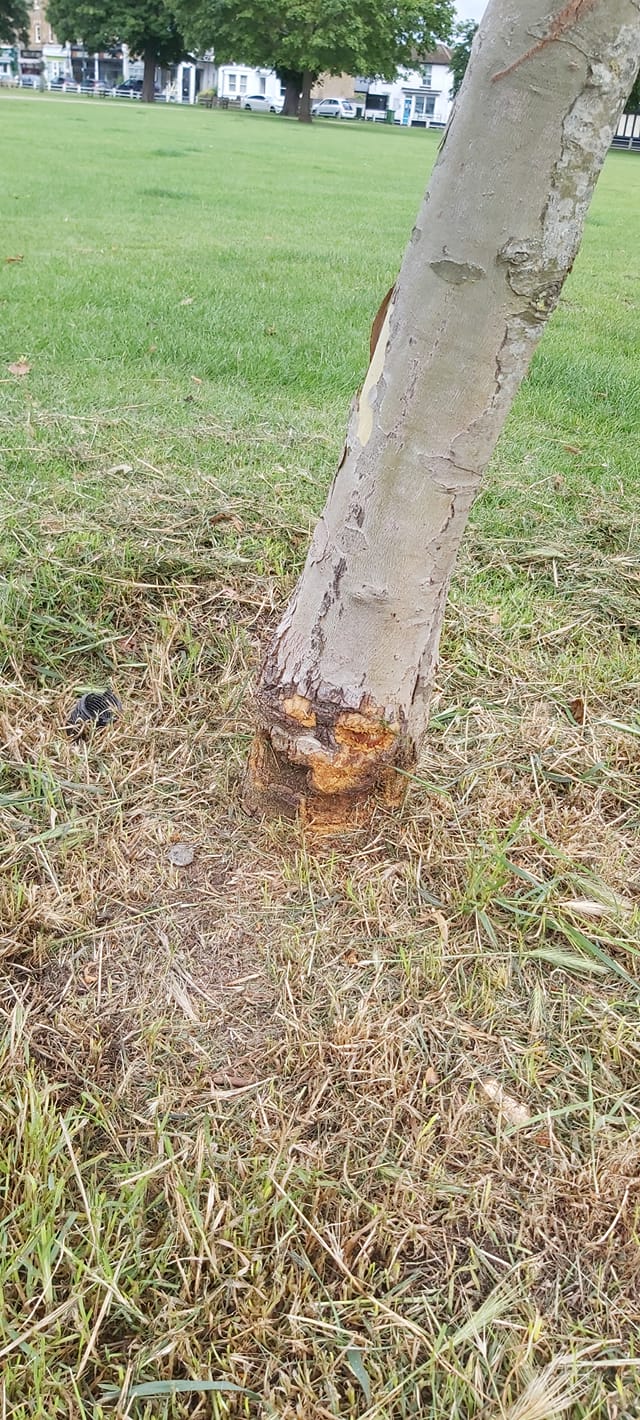 New waste bin
Thanks London Borough of Richmond upon Thames for the responding to our calls for the installation of this shiny new waste bin beside the bus stop at the Arthur's end, there has been no bin at this busy exit point for some years following the fire in the TFL one which was never replaced.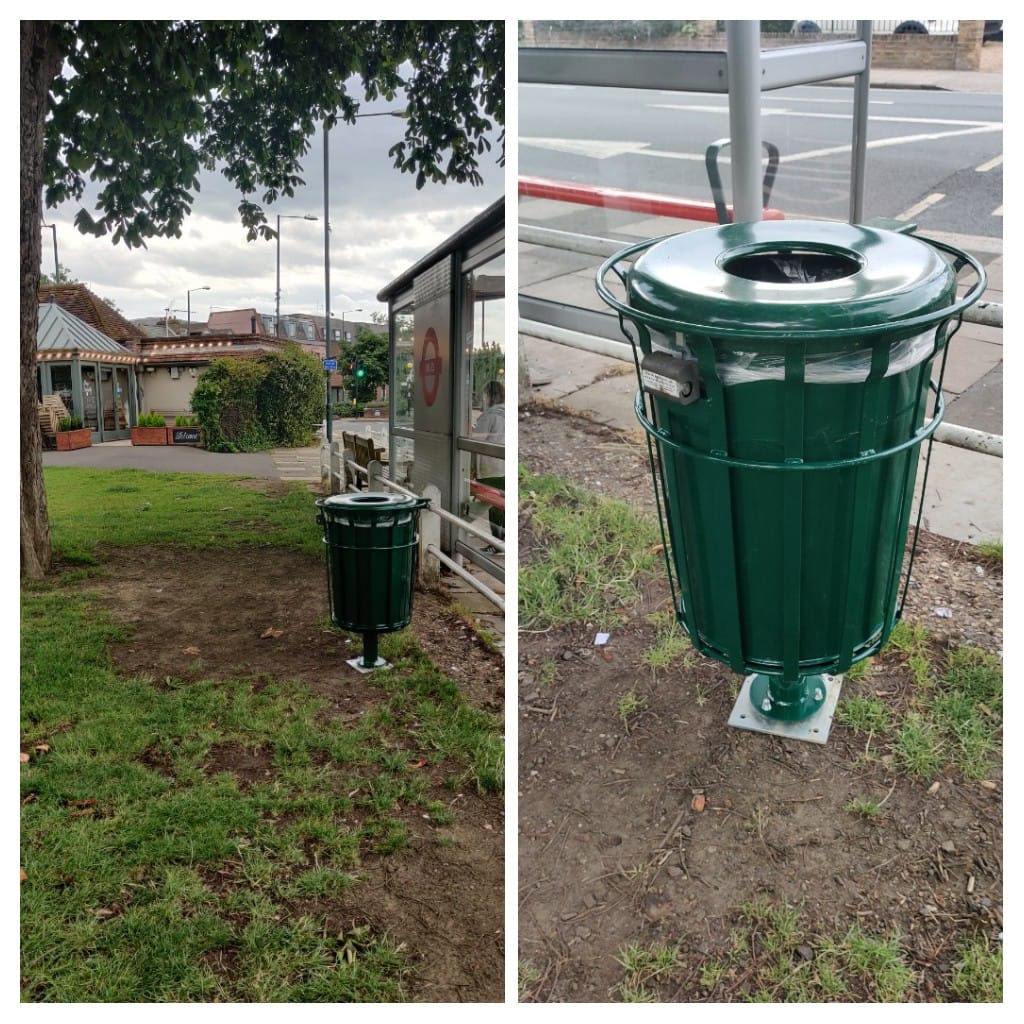 July 2021
Please see our statement regading the destuction of the Back lands, plot of land behind 16-24 Hampton Road, and 3-4 First Cross Road. https://fotg.uk/back-lands-plot-of-land-behin/
May 2021
May Clean the Green event
A fabulous turn out for the Clean The Green event and especially great to see a lot of new faces joining the clean up. #community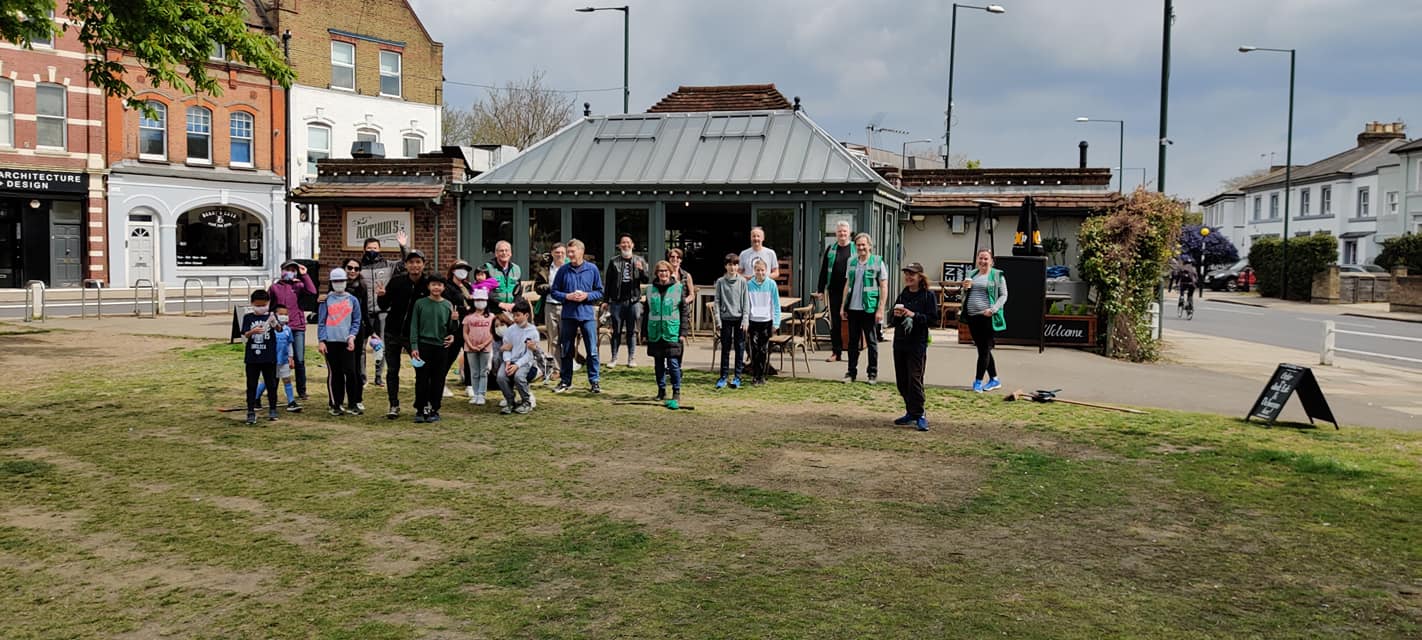 April 2021
Upcoming event
Help us Clean The Green! Please join us Sunday 2 May @ 10:30 for our next
Friends of Twickenham Green
litter pick. We spend an hour or so picking up underlying waste from the green and surrounding facilities while inspecting The Green for any issues. More details in our events calendar here
https://fotg.uk/calendar/item/45039808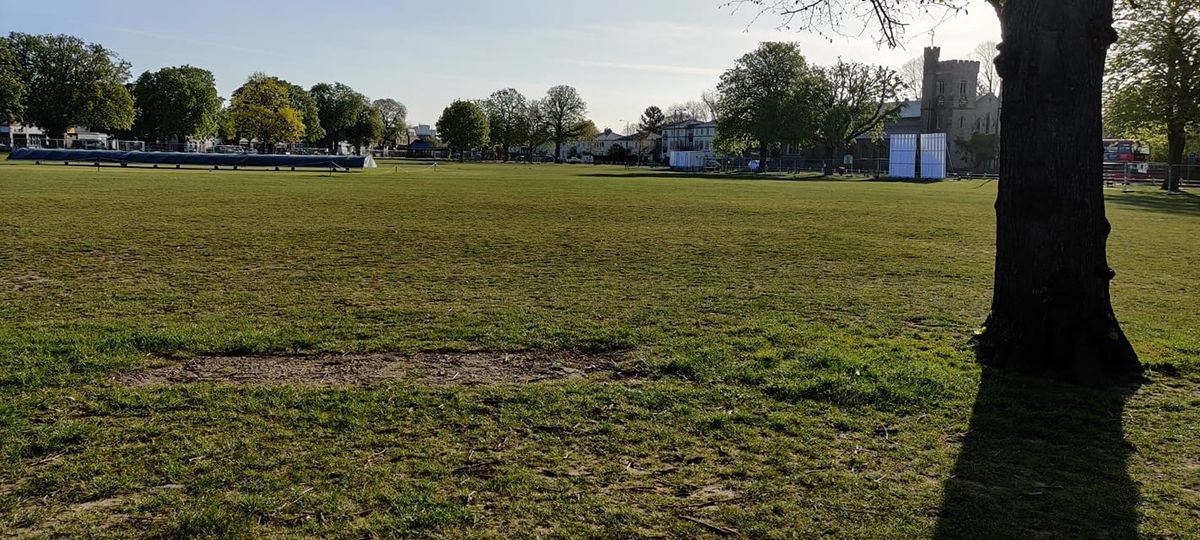 Hustings event
The Friends of Twickenham Green invites members and local residents to join us on Zoom this Wednesday 21st April evening to hear and ask questions of candidates seeking election to the Greater London Assembly as our representative for South West London see details on our website here.
https://fotg.uk/hustings-invite/
March 2021
Decompaction work around our trees began today. The contractors are using compressed air to open up space below ground, and then infill with fertiliser. Most of the trees will have protective fencing for a period of four weeks. Because of the sensitive nature of Amelie's tree and her bench, the work will be carried out there, but without the fencing.
Jane Crowther, Trees, who is supervising the work, pointed out that Twickenham Green is the first green space in the borough to receive this treatment, and will be closely monitoring it's development. Thanks to the contractors, and especially thank to Jane and her team in Parks, who do such vital work for our precious open space.
Howard Roberts, Environment Officer, Friends of Twickenham Green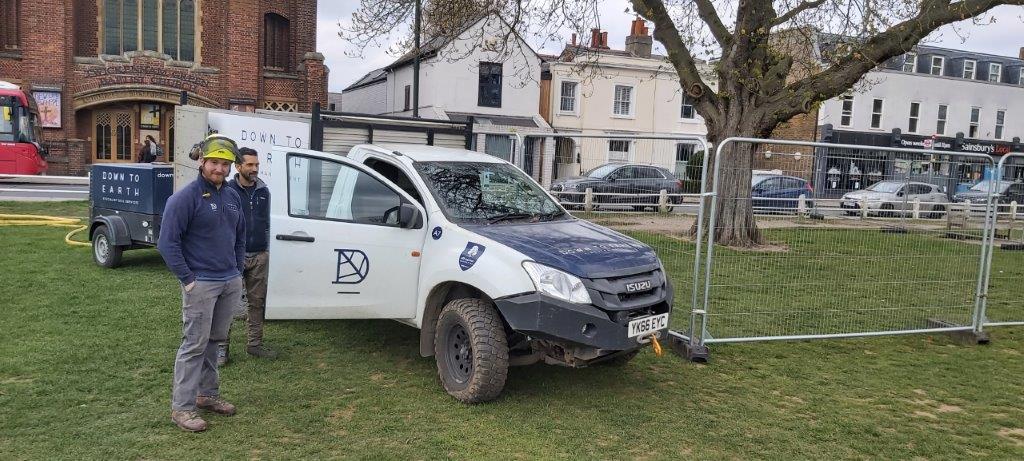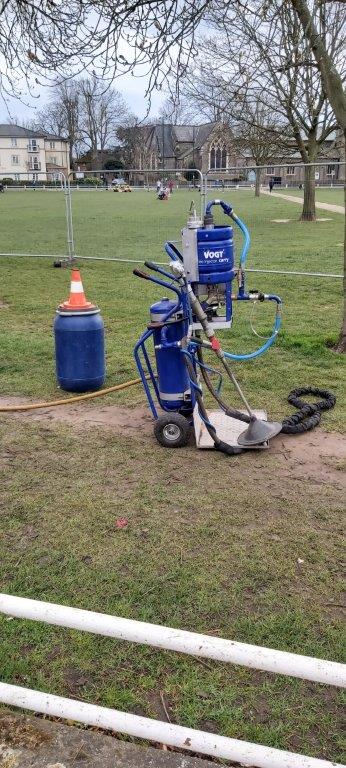 Fencing around trees on The Green
Due to heavy use, much of The Green is suffering from compaction. Parks, having undertaken a comprehensive survey and consultation with The Friends, have instituted a series of works to aerate the grass, and have now moved on to work on the areas adjacent to the trees. The compaction has in some cases been restricting the growth of the roots balls of the younger trees. Work is due to start around the 22nd of March, and in an effort to ensure it is effective, fencing will be erected around the trees for a short period of time. The Friends are pleased to see this work taking place, and appreciate the efforts that Parks make to maintain our precious open space.
Howard Roberts, Environment Officer, Friends of Twickenham Green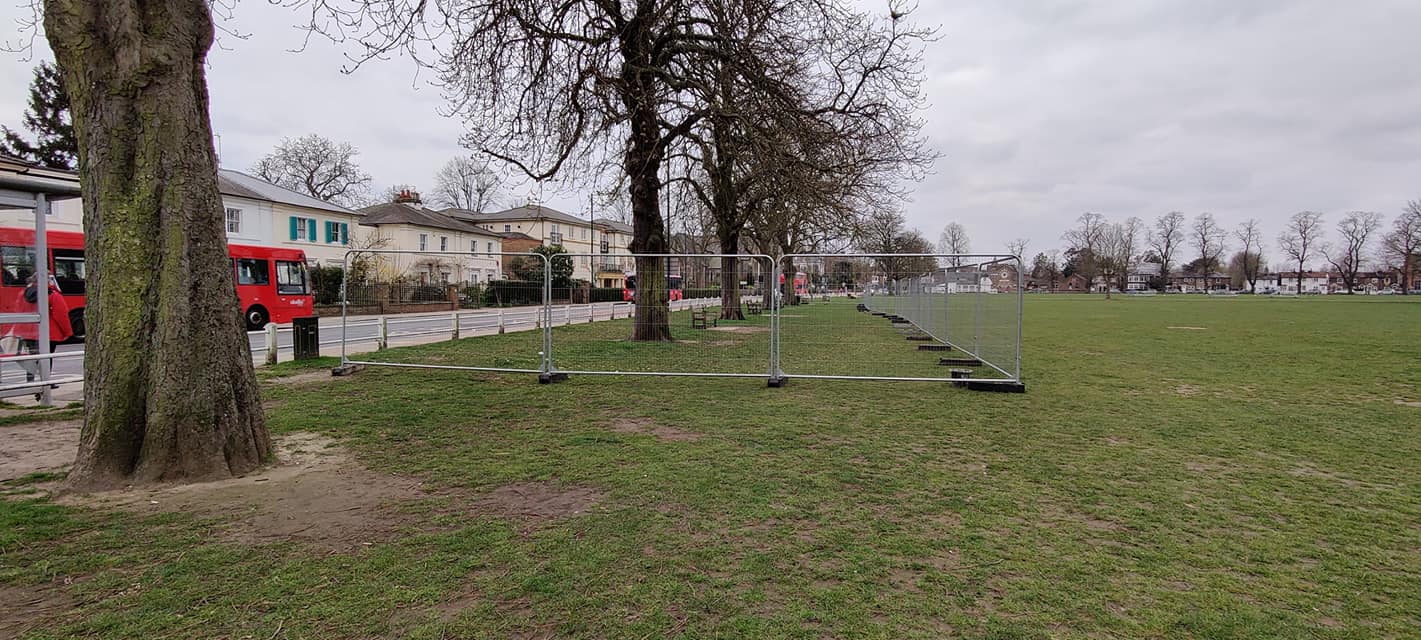 Sarah Everard vigil
A respectful vigil in the memory of Sarah Everard occurred on Twickenham Green on Saturday with flowers being left on Amelie's bench.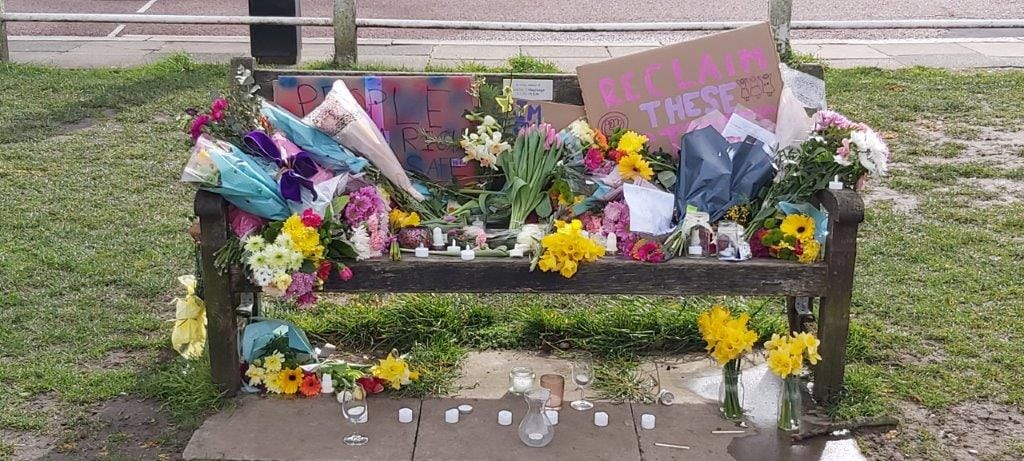 February 2021
A quiet and cool month, but a lovely sunset shot over The Green.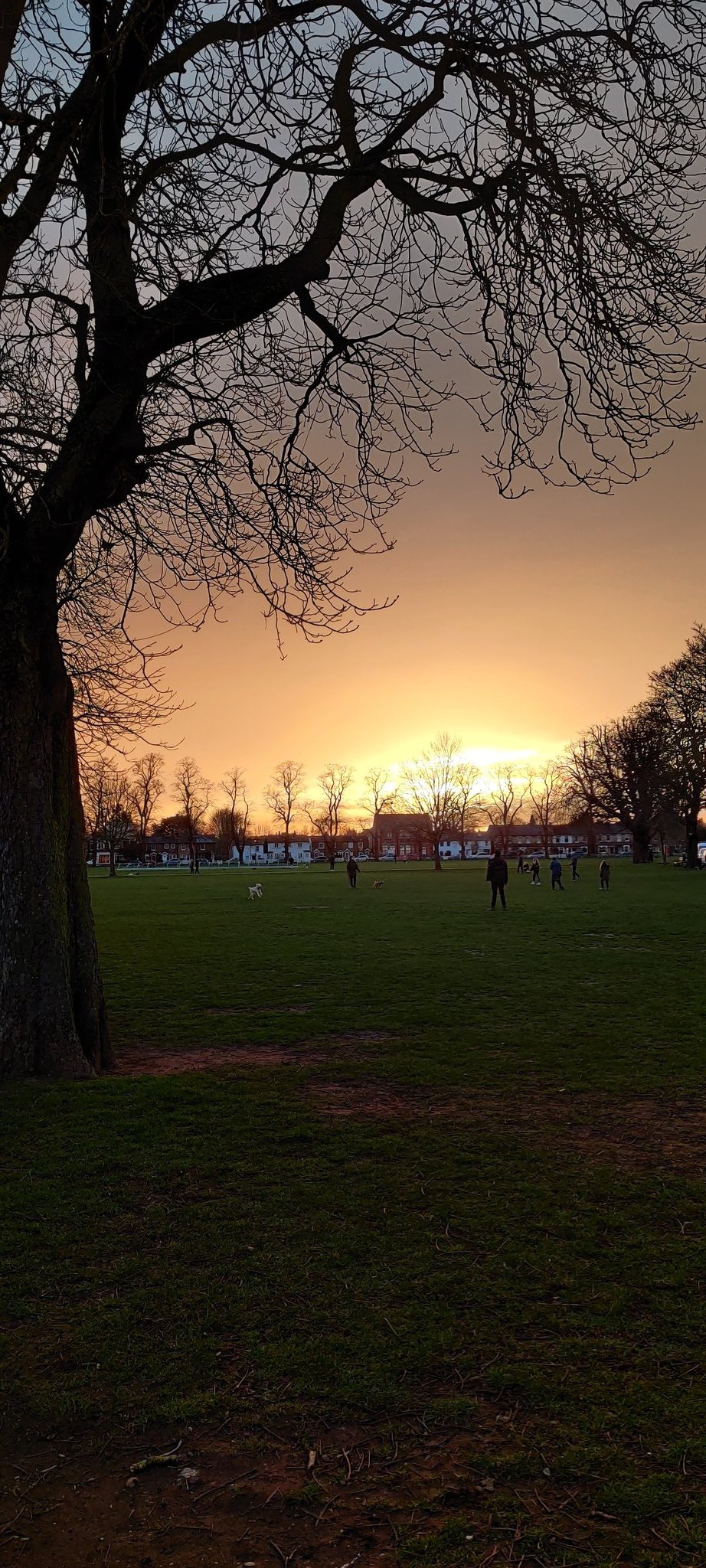 January 2021
Defibrillator campaign concluded and installed!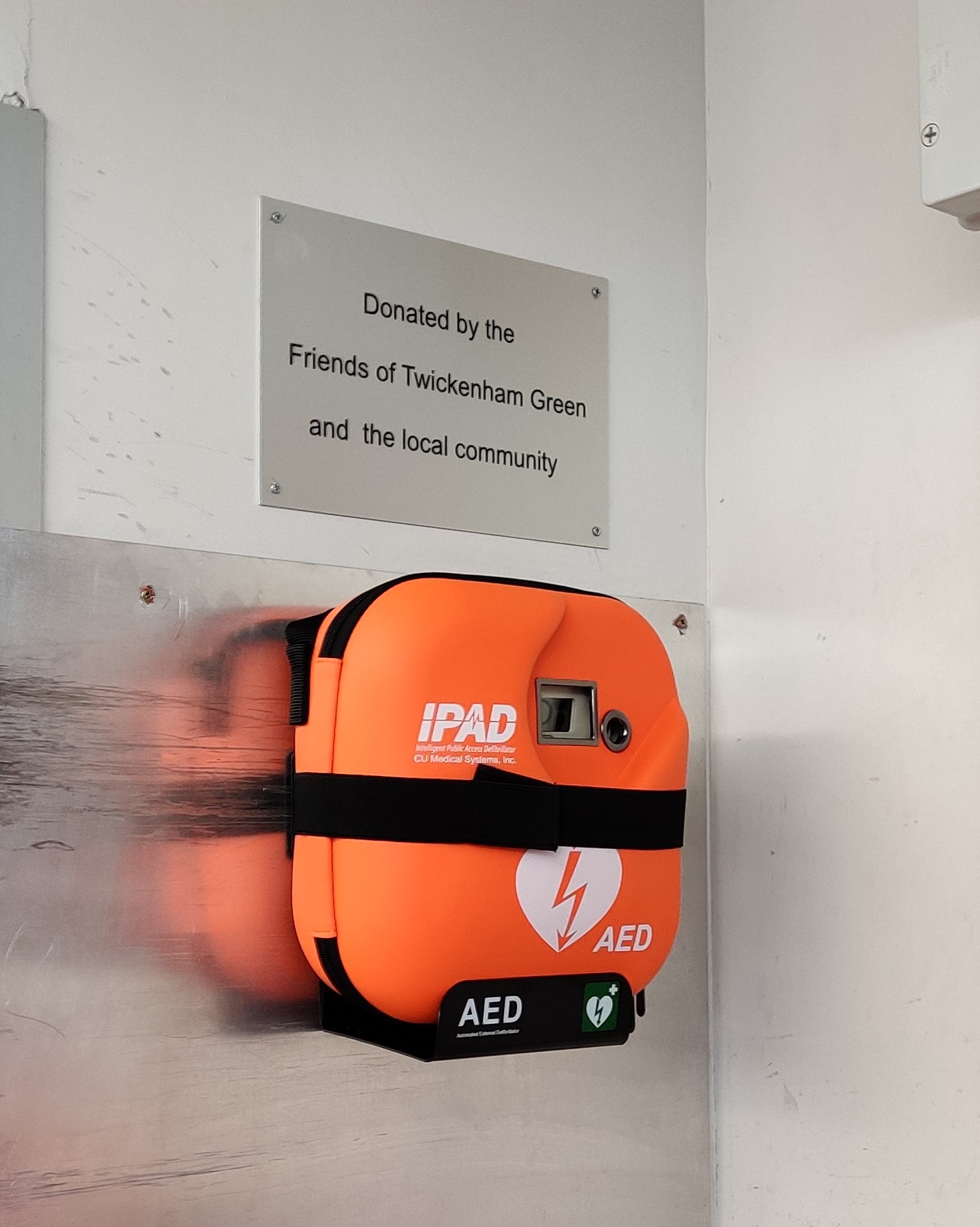 We are pleased to report that thanks to a fantastic response to our appeal the defibrillator has now been purchased, installed in Sainsbury's on The Green and is registered with the London Ambulance Service.
The Friends of Twickenham Green would like to place on record it's sincere thanks to all those that made donations and to the local team at Sainsbury's for their help and support in bringing this project to a successful conclusion.
We believe that with the high number of people using the Green particularly in the Summer months having access to a defibrillator in an emergency could be a life saver.

Currently less than 1 in 10 people survive an out of hospital cardiac arrest in the UK and for every minute that someone is in cardiac arrest without access to CPR or a defibrillator their chance of survival drops by up to 10%.

The Executive Committee decided at its meeting last November to purchase a public access defibrillator (PAD) to be sited at the Sainsbury's store on the Green - funded by donations from members and the local community.
On a cold wet pandemic day in Twickenham, at least there was something good to report; young saplings being planted on Twickenham Green. We had originally intended to have our own volunteers assist the contractors, but current lock down restrictions, understandably ruled this out. Thanks to Parks for getting these replacement young trees in, and also to the contractors, KPS, for working in the rain. Now these have been planted, the next phase is to aerate around some of the other trees, to reduce compaction and assist growth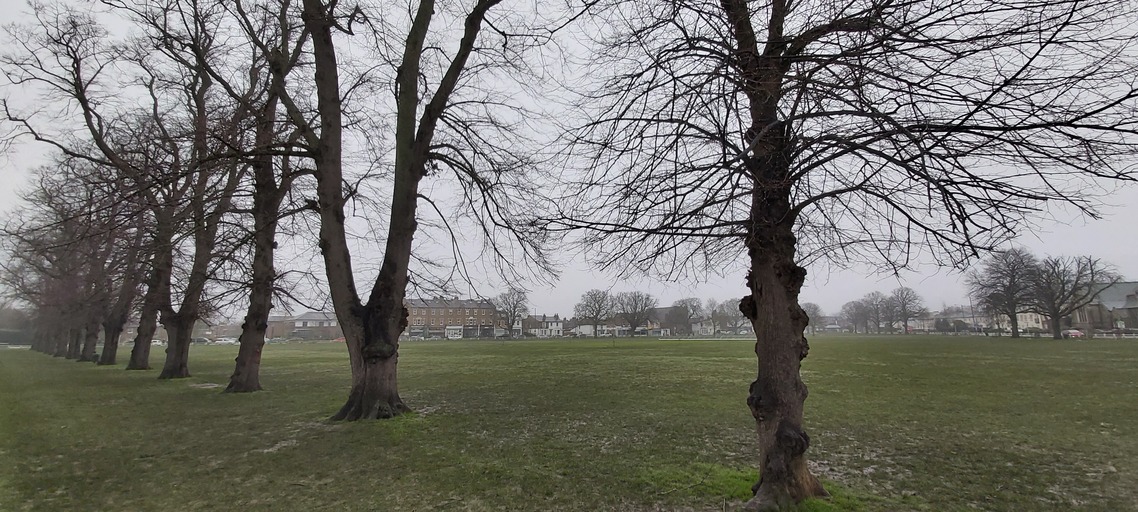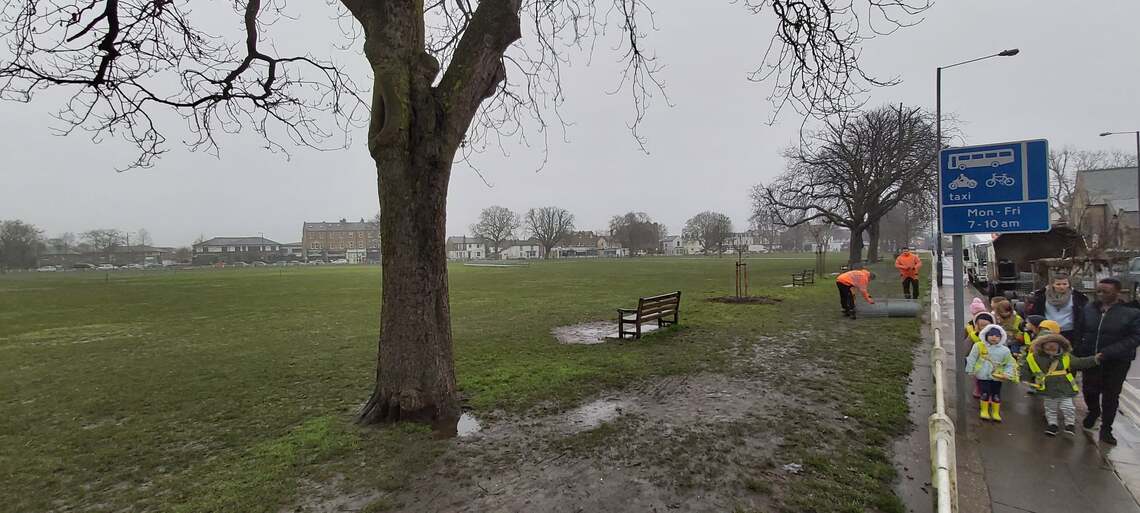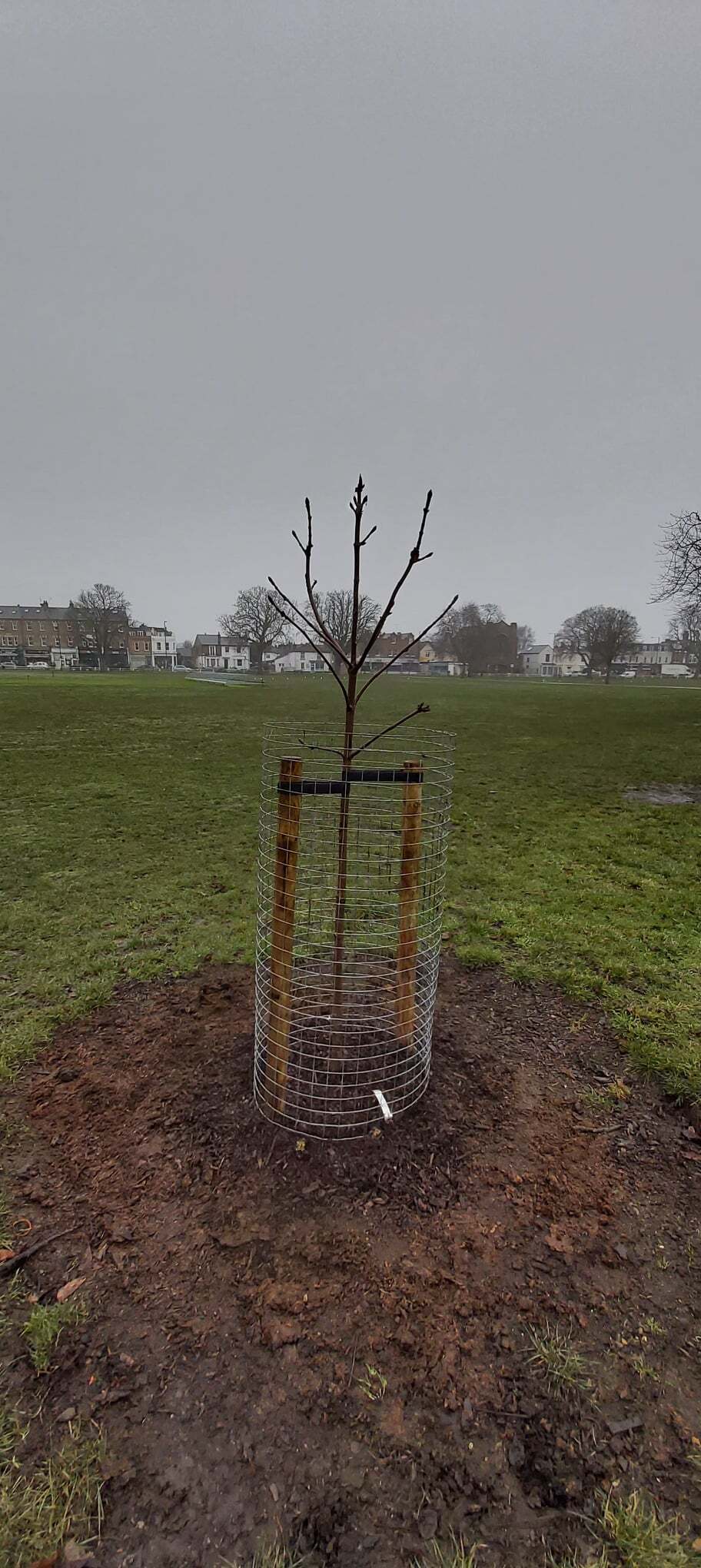 December 2020
Wow, target met! We are humbled by your generous donations
#twickenham
community!
The PAD has been ordered and is due to be installed in January in the Sainsbury's store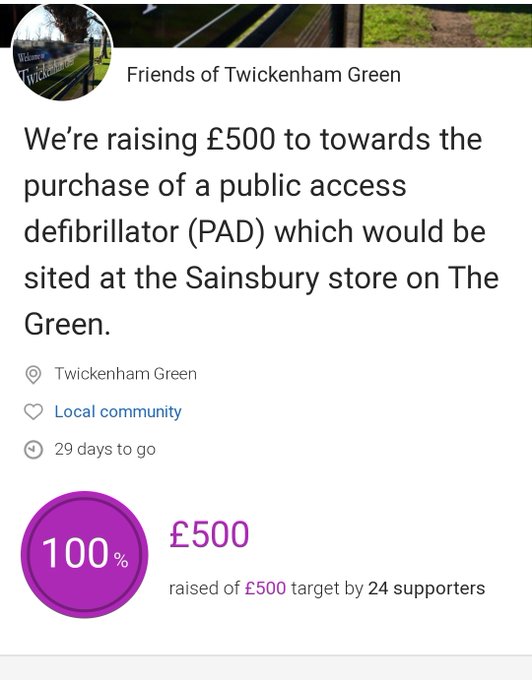 November 2020
Defibrillator - purchase and donation appeal
The Executive Committee at its November meeting decided to purchase a public access defibrillator (PAD). The PAD would be sited at the Sainsbury store on the Green. Sainsbury have agreed to install and maintain it and will also register it with the London Ambulance Service (LAS). We are seeking donations towards the purchase from both members and businesses sited on The Green.
Currently less than 1 in 10 people survive an out of hospital cardiac arrest in the UK and for every minute that someone is in cardiac arrest without access to CPR or a defibrillator their chance of survival drops by up to 10%.
Please see further information here about the purchase and our appeal for donations.

Geoffery Morgan - Obituary
We are saddened to hear of the passing of our former Chair and life member of the Friends of Twickenham Green, Geoffery Morgan. We have published his obituary here.